Tuesday October 27, 2020
Finances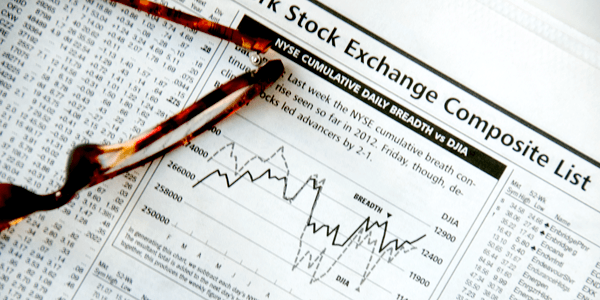 Rite Aid's Shares Jump
Rite Aid Corporation (RAD) reported quarterly earnings on Thursday, December 19. The drug store chain reported revenue that beat Wall Street's estimates, causing shares to soar more than 42% after the report's release.

Rite Aid announced revenue of $5.46 billion for the third quarter. This is up from revenue of $5.45 billion reported in the same quarter last year and above the $5.42 billion in revenue that analysts expected.

"We delivered a $15.3 million increase in adjusted EBITDA, our biggest increase in over 2 years," said Rite Aid CEO and Director Heyward Rutledge Donigan. "This EBITDA growth occurred in both segments of our business. On the Retail Pharmacy side, our store teams continued to focus on delivering best-in-class clinical pharmacy services. This was highlighted by solid growth in flu and ancillary immunizations year-over-year, which helped drive our script count increase for the quarter. And when excluding tobacco-related products, front-end comps grew by 1%."

The company reported net income of $52.3 million for the quarter, up from an earnings loss of $17.3 million one year ago. On an adjusted earnings per share basis, the company posted net earnings of $0.54 per share, which was better than analysts' estimates of net earnings of $0.07 per share.

Rite Aid stock nearly tripled in value following the third quarter earnings beat. The company reported strong pharmacy sales, attributing increased revenue from its Medicare Part D membership growth. The company's Thrifty's Ice Cream brand contributed strong growth. Thrifty's Ice Cream, acquired by Rite Aid in 1996 and its ice cream service counters have been a fixture in select California locations ever since. Rite Aid announced this year that it would begin selling Thrifty Ice Cream prepacked cartons in an additional 900 stores in select regions of the country.

Rite Aid Corporation (RAD) shares closed at $20.25, up 45.7% for the week.


Nike Reports Earnings

NIKE, Inc. (NKE) released its second quarter earnings report on Thursday, December 19. The company surpassed Wall Street's earnings and revenue predictions and reported a record quarter.

Nike posted quarterly revenue of $10.33 billion. This is up 10% from last year's second quarter revenue of $9.37 billion. Revenue in the quarter topped the $10.09 billion Wall Street expected.

"In Q2, NIKE has proven again that innovation is our greatest competitive edge – turning athlete insights into breakthrough product and digital services, as we offer more choice to more consumers at an accelerated pace," said Nike President and CEO Mark Parker. "Our entire NIKE team is fueling our current momentum, and I've never been more optimistic about the future of this company."

The company announced net income of $1.12 billion, up 32% year-over-year from earnings of $847 million. Nike reported adjusted quarterly earnings of $0.70 per share, exceeding the $0.58 per share that analysts predicted.

Nike reported strong online sales, surging 38% in the quarter. Despite sales that beat expectations, shares dipped 2% after the report's release. Nike's CEO Mark Parker is stepping down in January 2020. Parker will be succeeded by John Donahoe, the former CEO of eBay. Parker, who has worked Nike for over 40 years, will transition to the role of Nike's executive chairman.

NIKE, Inc. (NKE) shares ended the week at $101.62, up 1.4% for the week.


Darden Restaurants Dish Up Earnings

Darden Restaurants, Inc., (DRI) reported quarterly earnings on Thursday, December 19. The restaurant operator reported decreased net income year-over-year but affirmed its financial outlook for fiscal 2020.

Darden Restaurants, parent company of Olive Garden, LongHorn Steakhouse and Yard House, announced increased revenue of $2.06 billion for the second quarter, which was in-line with analysts' expectations. Last year at this time, the company reported revenue of $1.97 billion.

"We had a good quarter with continued same-restaurant sales growth outpacing the casual dining industry benchmarks, especially at LongHorn," said Darden Restaurants CEO Gene Lee. "We continue to see that consumers are willing to visit brands with compelling value and strong guest experience."

Darden Restaurants reported net income of $24.7 million, or $0.20 per share. This is down from $115.6 million, or $0.92 per share reported last year in the second quarter.

Darden restaurants increased its location count by 37 in the quarter, topping out at 1,799 total restaurants. Olive Garden, typically a strong breadwinner for Darden, experienced a 2.6% increase in revenue for the second quarter. LongHorn Steakhouse contributed the strongest growth of 8.4% in the quarter. The company affirmed its outlook of 1% to 2% same-restaurant sales for fiscal 2020.

Darden Restaurants, Inc., (DRI) shares ended the week at $107.99, down 1.8% for the week.

The Dow started the week of 12/23 at 28,492 and closed at 28,645 on 12/27. The S&P 500 started the week at 3,226 and closed at 3,240. The NASDAQ started the week at 8,950 and closed at 9,007.
Short Week for Treasury Yields
U.S. Treasury yields rose early in the holiday-shortened trading week. Yields dipped toward the end of the week due to fewer trades and no economic data released.

On Friday, yields fell, which some analysts have attributed to end-of-year portfolio rebalancing. Due to the mid-week holiday, there were no Treasury auctions or economic data reported on Friday.

"The December selloff in general has taken many momentum indicators to oversold," said analysts at NatWest Markets. "Now, across [Treasury] benchmarks, those have turned bullishly, after several tests of support the last several weeks."

The benchmark 10-year U.S. Treasury note yield opened the week at 1.934% and slid to 1.891% during trading on Friday. The 30-year U.S. Treasury bond began the week at 2.362% and fell to 2.320% on Friday.

On Monday, new home sales in November were seasonally adjusted to 719,000, which was fewer than expected but was up from the revised report of 710,000. The median home sale price in November rose 7.2% year-over-year.

The 10-year Treasury note yield closed at 1.87% on 12/27, while the 30-year Treasury bond yield was 2.31%.
Mortgage Rates Hold Steady
Freddie Mac released its latest Primary Mortgage Market Survey on Thursday, December 26. Mortgage rates had little to no changes from the previous week.

The 30-year fixed rate mortgage averaged 3.74% this week, up from an average of 3.73% last week. During the same week last year, the 30-year fixed rate mortgage averaged 4.55%.

This week the 15-year fixed rate mortgage averaged 3.19%, unchanged from the prior week. Last year at this time, the 15-year fixed rate mortgage averaged 4.01%.

"The 30-year fixed-rate mortgage rate saw little change again this week and averaged just 3.9% during 2019, the fourth lowest annual average level since 1971 when Freddie Mac started its weekly survey," said Freddie Mac's Chief Economist, Sam Khater. "Heading into 2020, low mortgage rates and the improving economy will be the major drivers of the housing market with steady increases in home sales, construction and home prices. While the outlook for the housing market is bright, worsening housing affordability is no longer a coastal phenomenon and is spreading to many interior markets and it is a threat to the continued recovery in housing and the economy."

Based on published national averages, the savings rate was 0.09% for the week of December 23. The one-year CD finished at 0.49%.
Published December 27, 2019
Previous Articles
Dave & Buster's Reports Earnings
Hewlett Packard Enterprise Reports Earnings